Type: Bug

Priority: Blocker

Labels:

Environment:

Windows 10, XWiki 11.10.4 and XWiki 12.2.1
Documentation in Release Notes:

N/A
Preconditions: Have the FAQ Application 8.3 installed.
Steps to reproduce:
Access the FAQ app with IE11
Add a new question
Add an answer
Save & View the page
Edit the new question or create another one with other browsers (Chrome, Edge, FF)
Add an answer
Access question with IE
Edit the question
Expected results: The user is allowed to create a new Question/Answer entry.
Actual results:
Step 8: Answers added with other browsers is not visible with IE11 in Edit mode.
This reproduces on XWiki 11.10.4 and 12.2.1
 
Working fine on XWiki 11.10.3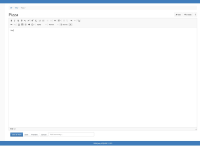 depends on

CKEDITOR-345 Cannot edit TextArea object properties on IE11

Closed
is related to

BLOG-158 Can't add text in Content and Summary with IE11, also can't see the content from them in edit mode if it was added with other browsers

Closed