Bug

Major

XE 3.0.36132, linux ubuntu 11.04, localhost installation
Hi,
To reproduce the bug, you have to follow these steps :
Create a color theme with an apostrophe in the name. To test, I used : Nicko's theme.
Build your color theme and save it.
Go back to the color theme Webhome and choose your theme as current. The page is refreshing automatically and then : Velocity macro error.
See screen below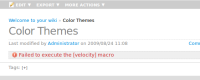 Thanks