Documentation in Release Notes:

N/A
Since XWIKI-12477, we need to go to the create form to select the "Page from Office" type, in order to import an office document.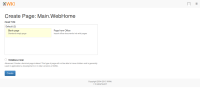 However, on an wiki which is almost empty (only having the office importer UI), when you go to the create action on a page that does not exist yet, you don't have the create form, but you are redirected to the edit mode.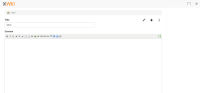 This is due to the fact that the create action considers it has enough information to create the page.
I have not seen the problem on XE because the wiki have a dashboard template, and there is a check in the create action: if a template provider exists and the user haven't chosen a template, then the create form is displayed.
We need the same thing for the "type" option that have been introduced recently.
Actually, we could even consider adding some extension points in the create action. One of this extension point would be for the office importer. If the "office" type is chosen, the create action should redirect to the OfficeImporter page on the wiki. It is currently done by a javascript.