Type: Bug

Priority: Minor

Affects Version/s:

9.11.2

,

10.0
The problem cannot be reproduced on 10.0 and 9.11.2 because it's hidden by XWIKI-14976. However, these are the steps:
Go to Administration > User
Select your own user and click on the pencil
In the popup, go to the "notifications" tab
Click on "add filter"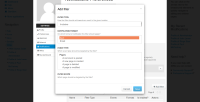 The new popup is displayed, but the old one is not hidden by a backdrop.
I have tried to fix this with usual CSS properties (z-index), but I haven't managed to fix it. There must be a particular reason that make these properties not working as I'm expecting them to do.
relates to

XWIKI-14976 Admin user cannot save changes to their own profile when using "Users & Rights/Users"

Closed