Type: Bug

Priority: Major

Labels:
Documentation in Release Notes:

N/A
In our XWiki installation, most of the users can't clear all their notifications: at first they seem to disappear but after another page load, all the notifications appear back, as described also in XWIKI-15869.
In my case, not even administrators can clear all notifications, neither internal nor from the LDAP directory. The only user that can clear all notifications is one that has the notification filters with the opposite logi as the rest of users:
If this user is subscribed to a wiki/page, a, inclusion filter appears on the user's filter page (see first attachment). If the user unsubscribes, the rule is deleted.
If any other user is subscribed to a wiki/page, no rule appears, he is subscribed by default. If the user unsubscribes, an exclusion rule is added (see second attachment).
Only working user, when subscribed:

Any other user, when unsubscribed (subscribed by default when no rule is added):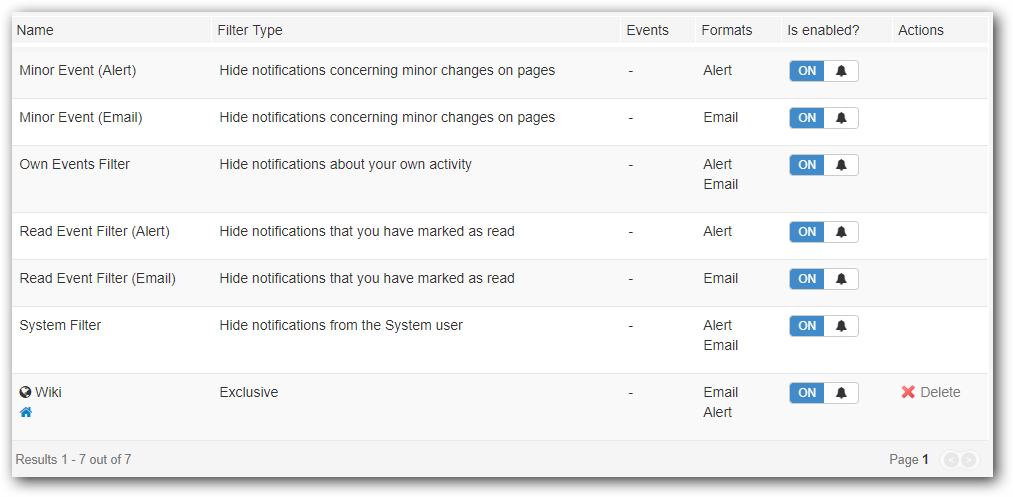 This behaviour doesn't differenciate between LDAP an internal users, admin or normal users. The only user that works is the one with the "by default unsubscribed" logic. Is there any way I can make the logic consistent accross all users?
There is no error in the log files, if there is any other information I can provide in order to help track the issue please let me know.
PS: I've been having this issue since I started using XWiki with 10.1.
is duplicated by

XWIKI-15869 Non-admin users cannot clear/mark as read notifications

Closed