Bug

Blocker

Windows 10, XWiki 12.2, 12.3 with IE 11, Chrome 83
Steps to reproduce:
Login as Admin
Create a subwiki
Login as U1
Go to Notifications > Settings
Set all Pages Notifications to ON
Go to the subwiki created previously
Go to a page (e.g. Sandbox.TestPage1)
Click on Notifications bell and keep ON only the toggle 'Watch this page'
Login as Admin
Update/comment the respective page
On Main Wiki, login as U1
Observe the notifications list
Expected results: On the notifications list the name of the subwiki is displayed near the link to the event related page.
Actual results: The name of the subwiki doesn't appear anymore on 12.2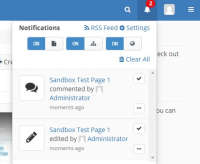 and 12.3
.
It is working good on 12.1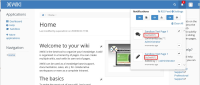 Also working on 11.10.5
relates to

XWIKI-17478 The wiki name is not displayed properly anymore on Notifications list and Notifications Macro on subwikis

Closed