Bug

Major
The "spaces" property was deprecated and replaced with other properties in XWIKI-8759 .
Following this deprecation, the property is not displayed on the screen nor editable in the edit inline mode (default for template providers).
However, if the property is set, it is taken into account when checking the places where a template is available.
This can create some strange situations where a template provider displays no restrictions on the screen but still, is not available in all locations. It's very easy to get a template provider with the deprecated spaces property set, by installing an extension (for example, the meeting application).
Visually, the result is this: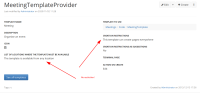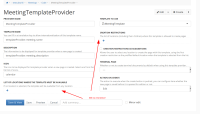 However, when trying to create a new page in the sandbox space: