Type: Bug

Priority: Major

Labels:
Documentation in Release Notes:

N/A
Examples: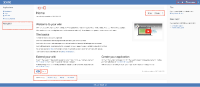 And we keep adding new problems. Recent ones added:
Inline AWM xproperty editing, see XWIKI-18121
Like button
Idea:
When exporting, limit the current user to not have some rights like "edit" and "like". I don't think we can limit to only "view" since the user may have PR rights for example allowing him to see something and we may want that to be exported.