Type: Bug

Priority: Major

Labels:
Documentation in Release Notes:

N/A
I reproduced this issue on the livedata displayed when using the useLiveData=true parameter for an application within minutes, to see the entries of an AWM with livedata.
Problem:
The text "Entries 1 - 2 out of 2 per page of ..." is slightly indented on the left, not clear why (what it's supposed to be aligned with), as in the image below: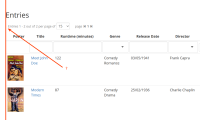 Expected result:
There should be 0 indentation, the text should align perfectly with the leftmost end of the table, so that it feels "aligned" when used in a page. Even more so knowing that the kebab menu on the right is perfectly aligned with the table on the margin of the container.