Livedata tables have a new filtering option for list columns, that livetables didn't have: the possibility to display only the rows having no value for the property of that column (in livetables it was only possible to filter tables having a given value for the column).
This option is presented in the livedata filters dropdowns as "(empty)".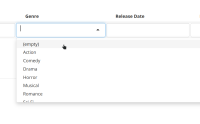 However, since empty is also a verb, it's not clear that that option will filter rows having no value, I understood it as "clearing the filter", "emptying the filter value".
Even more so that the livedata filter does not have the "All" option anymore, that the livetable had, which cleared the filter, and that the new "(empty)" filter is positioned exactly where the "all" filter used to be in the livetable, at the top of the list.
Maybe this issue should be about restoring the "All" option.