Type: Bug

Priority: Major

Affects Version/s:

13.10.2

,

14.4
How to reproduce:
customize the current theme that is used on the wiki
add the following code (copied from Google Fonts june 2022 version) in the advanced section of this color theme (copied from https://fonts.google.com/specimen/Fascinate ):

@import url('https://fonts.googleapis.com/css2?family=Fascinate&display=swap');


save
Expected result:
the wiki displays properly and the font is ready to use
Actual result:
the wiki is defaced, no css at all is applied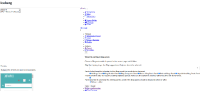 Note: this does not apply to all the imports and doesn't apply to all the imports of google fonts.
For example, the standard Paper flamingo theme is using an import of a google font, like this:
@import url("https://fonts.googleapis.com/css?family=Roboto:300,400,500,700");

and works perfectly fine.
Since the 2 imports are different, I think Google Fonts may have changed their font URLs and this new code creates a specific problem to the less compiler.
What is particularily tricky with this is that the preview of the color theme looks fine: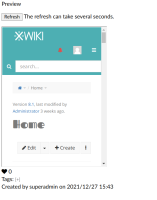 so if one is not saving and viewing, they will never see the problem.