Type: Bug

Priority: Blocker

Affects Version/s:

8.4-rc-1

,

7.4.6

Labels:
Documentation in Release Notes:

N/A
XWiki version: 8.4.4
Reproduced in CKEditor and GWT editor
Steps to reproduce:
Log in as Admin
Go to the blog application home page
Add a title to create a new blog post
In the Content add some text and an Image through Upload (Browse > Send it to Server > OK)
Click Save & View
Expected results: The image shows in Content of the blog post.
Actual results: The image doesn't show in Content of the blog post after Save & View. Only the name of the image appears in the content.
If you Edit the blog post again and you add the image to the post content (Steps 3-5), it will work.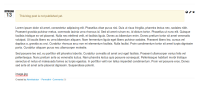 below the discussion I had with Marius
[4:41:14 PM] Marius Dumitru Florea: the template specified on the URL is copied over the document that is created when you upload the image. Check the document history.
[4:42:04 PM] Marius Dumitru Florea: the template is not merged but copied over
[4:42:29 PM] Mohamed BOUSSAA: Is there a solution to this ?
[4:43:13 PM] Marius Dumitru Florea: I don't have any quick solution. The create job probably needs to be fixed.
[4:43:32 PM] Marius Dumitru Florea: you should report an issue