See attached screenshot.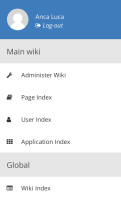 The name of the user and the avatar are both links to the user profile, while the "log-out" link is a link to the logout.
However, given that they are displayed on the same row of the drawer and there is no element that makes it obvious that they are 2 different links, it's not obvious that they perform 2 different functions.
Thus, even is users will identify that there are links in that area of the screen, they may not necessarily understand that they perform 2 different functions and may be temped to click anywhere in that area expecting the performed action to be the "logout" action.