Bug

Blocker

Windows 10 Pro 64 bit, Edge 85, using a local instance of XWiki 12.6.2 (Oracle 19c/ Jetty and Tomcat 9.0.38) and 12.8 (Jetty + HSQLDB)
STEPS TO REPRODUCE
Create a subwiki using the Standard Flavor by setting it as template
Create a new subwiki using the template
EXPECTED RESULTS
The subwiki creation process is finished successfully.
ACTUAL RESULTS
The creation process seems to be stuck at Translations (for Jetty) and on Flamingo Themes (for Tomcat, if it has any relevance).
When accessing the (partially) created subwiki, it's displayed in a Slavic language.
It seems that at the point where the creation progress is stuck, if the page is refreshed, the wiki seems to be created, but with errors: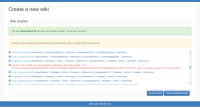 The issue could not be reproduced on XWiki 12.4.
depends on

XWIKI-17907 Missing attachments when creating a wiki from a template with flavor

Closed
duplicates

XWIKI-17896 When copying a document with translation the default version is lost

Closed

XWIKI-17908 Wiki creation logs containing backslashes are breaking JSON serialization

Closed
relates to

XWIKI-17893 Translations are missing for some pages on a subwiki created from template

Closed