I have 2 AWMs App1 and App2 described by the XWiki classes : App1Class and App2Class:
App1Class has a DBList property called field


Display type : input
Hibernate Query : 
SELECT DISTINCT doc.fullName, prop.value 
FROM XWikiDocument AS doc, BaseObject AS obj, StringProperty AS prop
WHERE obj.name=doc.fullName AND obj.className=

'App2.Code.App2Class'

 AND doc.fullName != 

'App2.Code.App2Template'

 AND obj.id=prop.id.id AND prop.id.name=

'name'




App2Class has a String property called name
Note that, the application App2 has more than 10 entries.
When I try to create a new entry on the application App1, the suggestion of the property (field) is not correctly working. What happen is that the suggestion is not looking on all entries of the App2 application but only on the 10 first entries. See screenshots :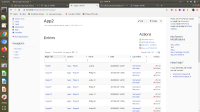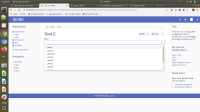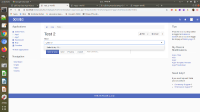 Note that, when I modify the DBList of the App1Class and use the XWiki Class Name instead of the Hibernate query, the suggestion works as expected.

XWiki 

Class

 Name : App2.Code.App2Class
Id Field Name : doc.fullName
Value Field Name: name

See screenshot :