Type: Bug

Priority: Major

Affects Version/s:

11.10.5
The conditions to reproduce this issue are the same as for issue XWIKI-18292: XWiki 11.10.5 configured with LibreOffice 6.2.4.2 (6.2.4.2-2).
How to reproduce:
Prepare a page with the following content:
Urna id volutpat lacus laoreet non. Cursus euismod quis viverra nibh. Nunc mattis enim ut tellus elementum sagittis vitae et. Pharetra massa massa ultricies mi. Turpis egestas sed tempus urna et pharetra pharetra. 

[[image:655-1000x250.jpeg]]

Eu scelerisque felis imperdiet proin fermentum leo vel orci porta. Tellus id interdum velit laoreet. Sed elementum tempus egestas sed sed risus pretium quam. Facilisi nullam vehicula ipsum a arcu. Sapien nec sagittis aliquam malesuada bibendum arcu vitae elementum curabitur. Elit sed vulputate mi sit. Cursus euismod quis viverra nibh cras pulvinar mattis nunc. Purus gravida quis blandit turpis cursus in hac habitasse. Et molestie ac feugiat sed. Scelerisque felis imperdiet proin fermentum leo. Aliquam sem et tortor consequat id porta nibh venenatis.

where the referenced image is a 1000x250 px image at 300dpi.
It would look something like this in wiki mode:

Export this page to rtf or odt.
Open the exported file with LibreOffice Writer (mine is version 7.0.3.1 on Ubuntu)

If the export was to odt, select View -> Normal from the menu to view it as a printable page
Expected result:
The image is displayed to fit 100% width of the page of the document
Actual result:
The image is inserted in the document at actual size, not resized, so it's not all visible on the document, it overflows: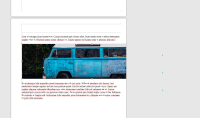 is related to

XWIKI-16525 Images and PPT slides not center properly in export as RTF

Open
relates to

XWIKI-18295 Tables overflow the page when exported to odt / rtf in a document that contains also a large image

Open