Type: Bug

Priority: Major

Affects Version/s:

12.10.6
Currently, in the notifications email the modified pages complete location is never displayed:
the summary at the top of the email only displays the wiki and the pages, without displaying the paths of the pages in the wiki (1)
on the details area the breadcrumbs of the pages (as added for XWIKI-14877 ) are displayed "collapsed" if too long (2)

the collapsed form is the form where the middle part of the breadcrumb is displayed as ... when the breadcrumb is too long.

in a browser the ... is clickable and expands to the full path, but in the email this does not happen.
(1) and (2) can be noticed in the following image: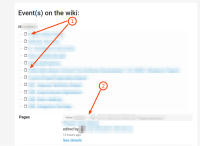 Thus, there is no way in the email to know the full location of the modified page. This is particularily bothering for content that tends to be named the same but placed in different places of the wiki (for example, when using the diagram extension and the diagram macro, it would create pages called "Diagram" all the time - when receiving the notification, the location of the created page is interesting).
The simplest solution for this is to display the non-collapsed breadcrumb. The more complicated would be to display the full page tree in the preamble of the mail.
is related to

XWIKI-17631 In notification emails, the tree of modified pages is sometimes not rendered properly

Open