Bug

Critical
Steps to reproduce :
From a new instance, create a new user on the main wiki, and a sub-wiki
Install the menu application on the sub-wiki (do it with the global administrator which has PR, to make sure that this issue isn't linked to a rights issue at install)
Make sure that the new user is admin of the subwiki
With the new user, create a menu with a display localtion (for instance, After the Page Header), and scope "wiki"
Expected : the menu is displayed for everyone on the sub-wiki.
Actual : even though we see that a space appeared for the menu in the sub-wiki UI, the contents of the menu are not displayed.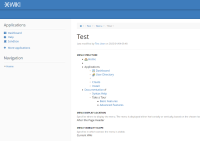 Saving the menu with a global admin (having PR) solves the issue.
depends on

XWIKI-19295 Accessing $xcontext.uix requires PR rights

Closed