Type: Bug

Priority: Major
Happened on playground.xwiki.org, observed after the 8.4.4 upgrade, after trying to recreate playground.
Behavior: Node1 and Node2 don't get their UIX pages registered correctly. For example, Node1 will have all the UIX registered correctly, while Node2 there will be some missing.
Initially (02/03/2017) we missed:
AdminUIX and some others
Users were not able to see the Drawer entries (Indexes) or Watchlist menu entry and the Search menu entry.
Today (07/03/2017) we are missing some org.xwiki.platform.panels.Applications entries from the Applications Panel from Node2, while Node1 was displayed correctly, see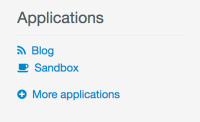 The temporary fix is to go to the pages:
276 kB
Ecaterina Moraru (Valica)

270 kB
Ecaterina Moraru (Valica)

25 kB
Ecaterina Moraru (Valica)
duplicates

XWIKI-14670 Sync issues between 2 nodes in a cluster when editing a Panel xobject

Closed
is related to

XWIKI-14070 UIX still present after page removed

Closed