Bug

Blocker

Windows 10, Chrome 87, XWiki 12.6.5, 11.10.12
Steps to reproduce:
Access Administer Wiki from the Drawer
Click Content > Localization
Select Yes from the multilingual drop-down menu
Select French, English, Romanian under "Supported languages", Default Language > English
Click Save
Create a new page
Edit it in WYSIWYG mode
Click Save
Click on one of the language you want to translate to, in the "Page Translations" panel eg. fr
Add some text in the title and content of the fr page
Expected results: The translation page is saved as expected.
Actual results: A Version conflict box appears, mixing the original English page with the French translation.
NOTE : This issue doesn't reproduce when using the Existing translations from the Page Translations panel. I think this was fixed in XWIKI-18053
On the Sandbox pages when using what is under "Translate this page" (in this case ro) the issue reproduces
Works good when using the Existing translations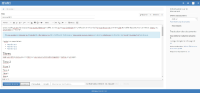 Version conflict when using a new translation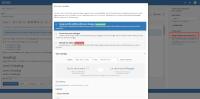 Issue was reproduced by iandriuta also.