Bug

Blocker

Windows 10, XWiki 13.4.5 Standard and with MySQL 8.0, IE 11, Chrome 95
Steps to reproduce:
Login as Admin
Create an AWM app with a Title and Content field (Page fields)
Add an entry to this application
Go to the app's Home page livetable
Click on the added entry to go to its page
Click on 'Edit' (small Pen) button next to each field to edit it in place
Expected results: The fields can be edited.
Actual results: The user can't edit the fields.
Note: Standard Short/Long text is working, it appears the issue is only for the Page fields.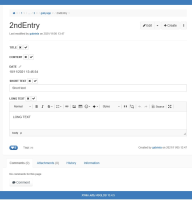 NOTE: This issue only reproduces on 13.4.5, it is working on 13.4.4 and 12.10.10.
The workaround is to use the page Edit button (Inline Form).
is caused by

XWIKI-19031 Computed fields are stored as empty string properties in the database

Closed