Bug

Major
The system filters are displayed in the notification preferences (global or local), in a table separated from user filters after XWIKI-18406: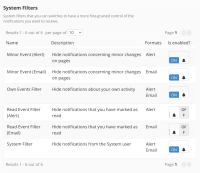 The handling of the channels (formats) of these filters is difficult to understand:
why is there a single filter for both formats for the "own event" and the "system" filters while the other filters have one filter per format?
a consequence of this is that a user cannot control the notifications for the System user changes individually in email and alert while it can for the other 2 filters. Is this true, there is no way to control that individually?
why does "Minor event" name not end with "Filter" as the others do? Does it mean something else?