Bug

Major
How to reproduce:
create an application or use an existing one
have some pages with objects of that class
click delete on the class page (with an advanced user):

a warning will be displayed that the class is used - since XWIKI-15653
a tree of pages with checkboxes will be displayed to check the boxes of the pages to delete
Expected result:
when manipulating the tree (checking / unchecking boxes) it should be obvious what will be deleted and what not
Actual result:
the displayed tree shows all the pages where the class is used and checking the box of the class automatically checks the boxes of the pages with objects.
At this point it appears like the pages with objects of that class will also be deleted, but it's not what will happen. As a user, if I only want to delete the class but not pages with objects, I don't know if I should continue at this point or not, I fear that I will delete everything, and there is no indication about how to delete only the class but not the pages. See screenshot.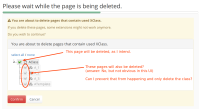 is related to

XWIKI-15653 Prevent users from deleting/moving/renaming pages containing XClass

Closed